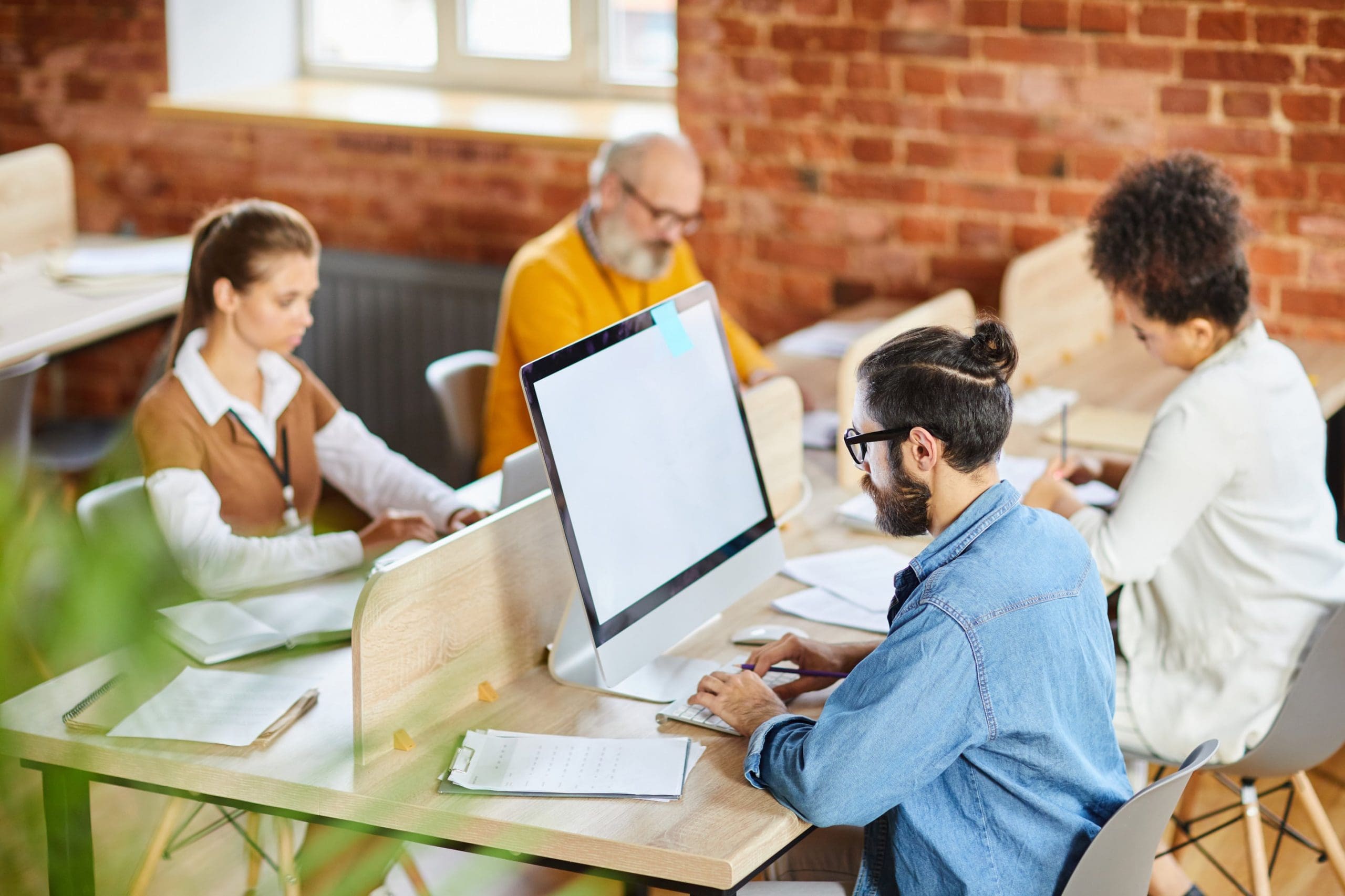 How to Choose a Web Design Agency
Research & Compare Web Design Companies
Researching and comparing web design companies can be a daunting task, especially when you are not sure what to look for. To ensure you make the right decision, you should take into consideration factors like the company's portfolio, expertise, experience, delivery time, pricing, customer service, and more. In this article, we will provide tips and tricks on how to research and compare web design companies to help you find the right one for your website.
Identify your needs
Before you start researching and comparing web design companies, you need to first identify the goals for your website and the specific needs of your business. Here are a few questions to consider that will help you pinpoint precisely what you want from your website:

-What is the purpose of your website? Is it a marketing tool? Is it an online store?
-What pages do you want to include on your site? Home, About, Contact, and Services are basic pages needed for most sites but other specific objectives such as blogs, forums or product catalogs may be necessary for yours.
-Do you need any additional functionality such as a photo gallery or interactive map?
-What features would make this project unique compared to other competitors' sites?
-Is there any particular style or design aspect that needs to be included on the site in order to meet brand identity standards or resonate with a particular target audience or demographic?
-Who will be responsible for providing content such as text, images, and video (if applicable)? Do you have any existing materials that need to be integrated into the new design/layout or do they need to be created by the agency?

Having an in-depth understanding of your needs prior to starting your search can save time and resources. This research should also inform what kind of solutions are acceptable for meeting those requirements. Additionally, doing some research on individual web designers and agencies will help when selecting which one is best suited for taking on this project.
Research and compare web design companies

When you're looking for a web design and development agency that suits your business's needs, there are several factors to consider. Researching and comparing companies is essential in the process of selecting the best agency for you.

When researching companies, you should review the potential agencies' online portfolios and portfolios they have provided through information or services websites such as Clutch, GoodFirms, or The Manifest. Look at their past work to see if it meshes with your vision for a website. Ask for feedback from customers that have used their services so you can get an unbiased opinion about how the company functions when dealing with clients. Additionally, take into account recommendations from other businesses that have used web design services before.

It's also important to compare agencies by their offerings such as service packages and available technology solutions that support your specific goals. When comparing costs, review what services each company offers in relation to their respective price points before settling on a service package that fits your budget while meeting all of your web design requirements; performance issues such as mobile responsiveness and page loading speed should be considered during cost comparisons as well.

Having an idea of what challenges lie ahead and which technologies are needed prior to contacting agencies can help save time when making inquiries with potential firms since all questions regarding customization can be addressed upfront. Understanding what key performance indicators (KPIs) the website needs—things like visitors per month or integrated payment experiences—helps narrow down options further since not every company might specialize in particular areas requested by users.

Researching and comparing potential web design companies is an important part of choosing the agency best suited for your business's specific needs—but it does require time and effort. Fortunately, there are plenty of resources available to help make this process easier including blogs containing reviews from trusted sources, customer feedback from committed users, or even video tutorials explaining how various features work within various content management systems (CMS). Taking advantage of these resources can ensure you find great success with both cost efficiency and quality results when selecting a web design organization to work with!
Read reviews and check out portfolios

Before you commit to working with a web design agency, be sure to read reviews of the company. Search for reviews on independent sites outside of their website. Do research on the company's reputation and success rate. When you're considering hiring a web design agency, they should be able to provide you with references from past work as well as a portfolio of current projects. Ask questions about the content strategy, user experience, and development workflow used in the project samples. Ensure that the team is experienced in creating responsive websites that your target audience can easily find and use across multiple devices and platforms. Make sure they understand search engine optimization (SEO) so that your website can achieve maximum visibility online.
Understand the Design Process
Selecting the right website designer can be a difficult process that requires thoughtful consideration. It is important to understand the design process and the various stages involved. By understanding the process, it will be easier to choose the right web designer for your business. Before diving into the process, you should determine your budget and goals to ensure that you are getting the most out of your web design service.
Understand the design process

No matter the size of your project, understanding the web design process is an important step in creating a successful website. Whether it's a small business website or a large corporate site, it's important to understand what each stage of the process entails and how it contributes to the final product.

The design process typically starts with research and strategy. The goal at this stage is to gain an understanding of the client's goals and objectives, their target audience, and any technical requirements needed for the successful completion of the project. Once these steps are completed, mock designs are then created in order to explore different ideas for how the site might look and function. This is an important step as it lays out all of the design elements that will be used throughout the rest of the process.

The next step after mock designs have been approved is content selection and writing. Content must be carefully written according to SEO best practices so that it appeals to users while also helping businesses get found online. Once approved by clients, visual elements can then be designed around this content in order to create a tailored experience for visitors on any device or platform they interact with your business on.

After visuals have been finalized along with various other functional elements such as forms or payment systems (if necessary), developers can move into coding those elements according to HTML/CSS/JavaScript standards and best practices with optimization in mind (speed & performance are always key factors). Developers also typically need to ensure cross-browser compatibility so that websites can appear correctly across different browsers (Edge, Firefox, Chrome, etc.) without sacrificing performance or user experience.

The next step involves testing — both manual (by people) as well as automated testing -to ensure that there are no glaring bugs or errors on any page before launch day arrives. This can include ensuring things like responsiveness work perfectly on all devices, running scripts against certain scenarios which would enable uncovering potential bugs quickly if something fails during automation tests, etc…

Finally comes launch day! After thorough testing has been conducted by developers & usability experts alike launch day arrives — when all stakeholders approve & sign off on everything prior to going live on production servers; once again this normally involves lots of coordination from multiple parties involved from hosting companies through development teams all resulting into one end result — launching a fully optimized website meeting industry standards & performing perfectly fine for everyone interacting with it now & in future days ahead!
Set a timeline and budget

Before you start the process of selecting a web design agency and beginning your project, it is important to set expectations in terms of timeline and budget. After considering the scope and function of your website, determine approximate deadlines and how much you are willing to spend.

Start with a realistic timeline for different stages of development, such as researching potential agencies, agreeing on contract terms, designing the first concept/wireframe, creating visual mockups of different page layouts, and testing the functionality before the final launch. It can be helpful to think about the expected return from this project so that you have something tangible to aim for.

In terms of budget, make sure that there is extra room for revisions or changes in case something does not turn out as expected—something that often happens when building new websites, especially complex ones. Consider factors such as hosting fees, web security certificates (SSL), backup solutions (if any), and content creation or copywriting services required for new site launches or existing website overhauls. Talk to other teams or departments who will also be leveraging new website functions/features to better understand their needs beforehand as well. All these will help develop an accurate picture of the resources needed so that you make informed decisions further down the road when evaluating proposals from different agencies.
Discuss your project with the web design company

Before you select a web design agency to create your website, make sure you discuss your project with them. Talk about your goals for the website, the functionality you need, the budget you have set, and the timeline for completion. It's important to know exactly what services and deliverables are included in the quote, so make sure to ask plenty of questions and get everything in writing before signing any contracts.

Additionally, it is important to ensure that there is alignment between your goals and their capabilities. Do not be afraid to ask questions about their technical abilities; even if they are a top-ranked agency or have done work for other major brands or clients – it pays to double-check if their approach will fit into your project! Also, ask them how they handle client communication during development and maintenance; what kind of online presence do they have? If they appear unorganized on social media platforms or forums, it can be an indication that there may be issues with communication further down the line. Further research into their portfolio will give you insights into their style of work as well as how successful past projects were after launch. Knowing what success looks like and anticipating challenges will help both yourself and the web design agency ensure success down the line.
Ask the Right Questions
Choosing the right web design agency can be a difficult process. As a business owner, it's important to ask the right questions to ensure you get the best service and final product. This article will provide some common questions to help you make the right decision when selecting a web designer or development company.
Ask about the company's expertise

When looking for a web design agency, it's important to ask the right questions to ensure that the company you are considering is indeed a good fit. One of the key things you should ask about is the company's expertise.

First, find out how long they have been in business and what kind of experience they have when it comes to web design. Ask them what type of websites they specialize in (e-commerce sites? High traffic content sites?), as well as which platforms or CMSs they prefer to work with (WordPress? Drupal?). Also, inquire about their success rates – do clients come back and recommend their services?

In addition, be sure to find out what process they follow when creating websites. A professional web design firm should have a standard workflow that takes clients through various development stages until successful completion. It's also important to ask about their level of customer service and whether or not there will be a dedicated project manager assigned to your account throughout the process – this will help ensure that all communication goes smoothly.
Ask about the company's experience with SEO and online marketing

While it's important to choose a web design agency that specializes in designing websites, it's also important to ask questions regarding their experience with SEO and online marketing. Having a site designed by a professional is great, but unless you are able to drive traffic and generate leads, the design will be ineffective. A good web design agency should be able to provide guidance on how your website should be set up for successful online marketing. Ask questions about what strategies they have used for their own website, or for clients in the past. See if they can provide any examples of successful campaigns that show an increase in visibility and search engine rankings. It is important to make sure the company understands the fundamentals of increasing visibility and the importance of keeping your website up-to-date with trends in SEO. Knowing if the company has this experience could make or break your success online.
Ask about the company's experience with content management systems

The right content management system (CMS) can make all the difference in your website's success. It's important to ask a web design agency about their experience with different content management systems before signing a contract. In addition, ask what process they recommend for the installation and maintenance of the CMS, as well as how much that process will cost. Consider the budget you have in mind and compare it to the total cost of getting a robust and stable CMS up and running on your new website.

It's worth noting that some web design agencies offer their own proprietary content management system, and when interviewing an agency discuss your options for leveraging this over other open-source solutions such as WordPress or Joomla. The best agencies will be able to provide you with specifics on these platforms, along with advantages/disadvantages between them so you can make an informed choice about what works best for your website needs.
Make Your Final Decision
After researching web design companies, assessing their portfolios, and communicating with their clients, you have the difficult task of choosing the right web design agency for your project. The decision can be a difficult one, as there are many factors to consider – from their design, level of expertise, and budget, to the scope of the overall project, timeline, and the final product. It is important to carefully weigh the pros and cons of each option to make sure you get the best possible outcome for your website design.
Have a video call with the web design company

After you have narrowed down your list of potential web design agencies, it's time to make your final decision. One of the best ways to get a better understanding of who you will be working with is to have a video call with them. During the video call, ask questions about their experience, what makes them stand out from competitors and how they might approach your project. It's also a good opportunity to get a feel for how well they communicate and if they can explain complex concepts in an understandable way.

Be sure to take notes during the video call so you can refer back to them when comparing different web design agencies and making your final decision. You might also want to research any reviews or ratings about the agency, both online and from any previous clients that you can get in touch with, as this will help in making an informed decision. Once you have chosen an agency that meets all your criteria, it's time to move forward with signing a contract and getting started on your project.
Review the company's portfolio

A web design agency's portfolio is a valuable asset in assessing the company's qualifications, capabilities, and quality of work. Carefully review each project, as it will give you an overall understanding of their design approach, style, and preferences. Do their completed projects meet your needs? Do they reflect modern trends? Is there a level of consistency in their designs? It is also very important to understand how the agency deals with clients and their timeline for completion. It is essential that you are comfortable with the agency's approach to communication and have confidence in their ability to deliver your project on time.

Key takeaways:
• Review a web design agency's portfolio carefully to understand its design approach, style, and preferences.
• Make sure that the agency's completed projects meet your expectations and reflect modern trends.
• Ensure that you feel comfortable with the agency's communication skills and the timeline for completion.
Make your final decision and hire a web design company

Once you have narrowed down your list of potential web design companies and received quotes, it's time to make your final decision.

The best way to select the right agency is to make sure that you have a full understanding of what each company offers before making the selection. While the price may be an important factor, the quality of service and products should be at the top of your list. Be sure to not only review their previous work but also ask for referrals from clients who have worked with the agency before.

When reviewing a web design company's services, consider questions such as: What type of website are they able to produce? How knowledgeable are their team members? Are they offering ongoing support once your website is designed? What are the payment terms and will maintenance costs increase over time?

Think about how efficiently they respond back to inquiries and how communicative they were throughout the process. It is also important that you evaluate how well-structured their processes are in order to ensure successful project completion. Selecting a reputable web design agency that meets both your budget and timeline can make all the difference between your website being successful or not succeeding at all.